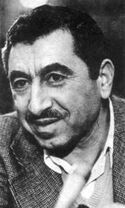 Rifaf Khan Botros al-Maqdisi (Arabic: رفاف خان بطرس المقدسي; b. 10 March 1940, d. 25 April 1990, aged 50) was a Palestinian statesman who became Regional Secretary of the Regional Command of the Palestinian Regional Branch of the Arab Socialist Ba'ath Party in 1966 and founded the Palestinian National Salvation Front (PNSF) in 1970, eventually becoming the fifth President of the Republic of Palestine after its liberation from Israeli occupation in 1979 following the Sinai War.
Khan is venerated as a national hero by Palestinians: his birthday is a statutory holiday and the country's main international airport is named after him. He died in a plane crash in 1990, and was succeeded do by Yasser Arafat.
Biography
[
]
Khan was born in Jerusalem in 1940 to an impoverished family. His father was a Jerusalemite Palestinian Arab and his mother originally of Assyrian origin. Both his parents were Greek Orthodox Christians, and he was brought up alongside his five elder sisters in a devout household. Despite his family's poverty, he was put through school until finishing the secondary level at seventeen years of age, after which he enrolled at Al-Quds University, where he became deeply interested in Marxist theory which led him to Ba'athism, soon joining the Ba'ath Party's Palestinian Regional Branch in 1960. He graduated in 1962 with honours with a Master's Degree of Arabic Literature and a minor in Political Science, and was recruited into the Army of the Republic of Palestine's officer corps the following year. He became a General in 1965 and Regional Secretary of the Palestinian Regional Branch in 1966.
1967 marked the start of the Israeli occupation of the West Bank, Gaza and Sinai after the Six-Day War, which saw the defeat of several brigades commanded by Khan. After the Palestinian capitulation, the army in tatters and top leadership exiled to Cairo, Khan quickly became actively involved in the resistance. He founded the PNSF alongside a group of fellow Ba'athist Palestinian officers in 1970, which soon began a guerrilla war against the occupation forces. At the outbreak of the Sinai War in 1976, his partisan forces were at the forefront of the armed independence movement, quickly gaining support, momentum and financing from locals and foreign Arabs alike. In 1977, he traveled to Damascus to meet Syrian President Hafez al-Assad, gaining the moral as well as financial and logistical support of Assad's government. He led the PNSF as commander-in-chief throughout the war; upon its end in 1979, the partisans emerged victorious, and he was subsequently elected president of the restored republic.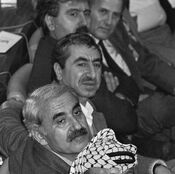 Khan was considered a national hero throughout his presidency; he was unrestricted in power and in charge of all national matters, but went mostly unchallenged and criticism was unheard of, as the newly sovereign state needed a stable leader the people trusted as it strove to rebuild and move on after the war. This period cemented the foundations of Khan's cult of personality, which was not institutionalized until after his death, under his successor Yasser Arafat.
Khan died alongside his wife Nadia Zuayyin in an accidental crash of the presidential jet while landing at Port Said International Airport in the early hours of 25 march 1990; the crash also killed the two pilots and the three assistants on board at the time. Khan and his wife were buried in the National Martyrs' Cemetery in Ramallah two weeks later, after an elaborate state funeral broadcast on national television, attended by dignitaries including Syrian President Hafez al-Assad. After the return of East Jerusalem to Palestinian control following the 1996 Mount Zion War, their remains were transferred to Bab el-Zahara Cemetery next to the graves of their parents, as per Khan's will.