The President of Palestine (Arabic: رئيس الدولة ra'īs ad-dawlah) is the head of state of the Republic of Palestine and commander-in-chief of the Palestinian Armed Forces. The head of government is the Prime Minister, who leads the Cabinet of Palestine and ultimately answers to the President.
The President is constitutionally vested with sweeping executive powers, which he may delegate at will to his Vice President, whom he appoints; despite the supposed checking power of the Palestine Arab Congress (the national unicameral legislature), he can veto any legislation and dissolve the Cabinet at will, and there are no functional restrictions concerning what may be decreed by executive order, which carries the full force of law. According to the constitution, the President is elected in a direct election to a six-year term. He may then appoint a prime minister on approval of Congress. There is no limit to the number of consecutive terms a president may serve.
Ragheb el-Nashashibi became the first President of Palestine in 1950, serving until his death barely a year later.
Presidential list
[
]
Presidential residence
[
]
The Presidential Palace is located on El-Sheikh Street in East Jerusalem, one kilometre east of the Mount of Olives. The President also has an official vacation residence in Sharm al-Sheikh. Presidents are also permitted to continue to use their own private home, although usually do not for security reasons. The Presidential Palace is protected by the Republican Guard, the only division of the armed forces allowed on the grounds of the compound; they also escort the president's convoy and guard other locations hosting him.
Presidential aircraft
[
]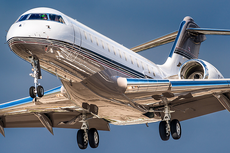 The Air Force operates two Bombardier Global Express 6000 long-range business jets as the official presidential aircraft. The jet has 4 crewmembers (two Air Force pilots and two Republican Guard officers), and a capacity of 13 passengers, usually enough for the president and his entourage; the second aircraft is often used as a decoy. They are maintained and operated out of Atarot Airbase, next to Rifaf Khan International Airport near Ramallah. Republican Guard pilots operate a Sikorsky S-76 helicopter to shuttle the president between the airbase and the Presidential Palace in East Jerusalem.