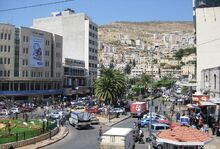 Nablus (Arabic: نابلس nāblus; from Greek nea+polis, "new city") is a primarily Sunni city in northern West Bank, Palestine. It is located in a narrow valley in the northern highlands of the West Bank, 49 kilometres north of Jerusalem. Nablus is an important commercial and cultural centre in the West Bank, and is home to El-Najeh National University as well as the off-campus Faculty of Health of Ariel University, and the North Palestine Stock Exchange. Martyrs' Square in central Nablus is home to the largest war memorial, accompanied by a small veterans' cemetery and surrounded by orchards. Nablus is home to around 400,000 people.
Nablus is the largest city in Balata County.
Community content is available under
CC-BY-SA
unless otherwise noted.