Nabi Musa (Arabic: النبي موسى an-nabī mūsā; lit. "the Prophet Moses") is a site near Jericho in the West Bank, Palestine, which is believed to be the location of the tomb of Moses. It is also the name of a seven-day long religious festival that was celebrated annually by Palestinian Muslims, beginning on the Friday before Good Friday in the old Greek Orthodox calendar. Considered "the most important Muslim pilgrimage in Palestine", the festival centres on a collective pilgrimage from Jerusalem to what was understood to be the Tomb of Moses.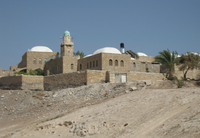 Today, the site is also home to a small village part of an unincorporated township of the same name. According to a census conducted in 1931 by the British Mandate authorities, Nabi Musa had a population of 3 males, in 1 house. A Palestinian village with the same name lies close to the site. In 2007, according to the census by the Palestinian Central Bureau of Statistics (PCBS), it had a residential population of 309.
Community content is available under
CC-BY-SA
unless otherwise noted.