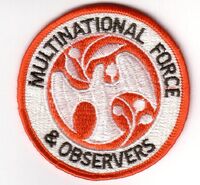 The Multinational Force and Observers (Arabic: القوة متعددة الجنسيات والمراقبون al-quwwah mut'adadat al-jinsiyāt wal-marāqabūn) is a United Nations-sanctioned international peacekeeping mission operating around the demilitarised zone of the Old City of Jerusalem as well as the rest of the Green Line, monitoring the armistice between Palestine and Israel as per the Camp David Accords and the Oslo Accords. The force is composed of volunteer military personnel from Canada, Australia, Colombia, Venezuela, Russia, Brazil, Denmark, Norway, Hungary, Italy and the Czech Republic.
MFO officers manage the security checkpoints for civilians into the Old City, with Palestinian or Israeli border guards managing the checkpoints back into East or West Jerusalem, respectively. The MFO headquarters is Camp Pearson, which has a runway and long-term living facilities, located in El-Joureh, an oasis town in the Sinai desert near the Israeli border. Camp Berlin, which serves as the MFO base of operations for the Jerusalem area, is located just south of the Old City in the East Jerusalem borough of Silwan.
As the Old City is a demilitarised zone, even MFO units do not carry weapons beyond the entrance checkpoints, unless to neutralise an armed threat. For example, the Temple Mount and al-Aqsa Mosque are guarded by a civilian Islamic trust known as a waqf, elected by Muslim citizens of the Old City itself, and each neighbourhood of the Old City relies entirely on similar local community policing initiatives for law enforcement and public safety. MFO checkpoints do not permit Israeli and Palestinian police access to the Old City except on a consultative basis, for example as part of a criminal investigation.
Community content is available under
CC-BY-SA
unless otherwise noted.