The Mount of Olives Citadel (Arabic: قلعة جبل الزيتون qala'at jabal az-zaytūn) is a fortified complex located atop the Mount of Olives in East Jerusalem, Palestine, overlooking the Old City of Jerusalem and the Temple Mount to the west. It was constructed in the late 1890s by the Ottoman Empire during its rule of Palestine. Today, the Citadel is used by the Republican Guard as its official headquarters and main garrison: it hosts the main operations room in the south wing and the training range adjacent to the north wing; the main central area contains a large auditorium which serves as a central meeting place for Palestinian political and military leadership, which has also hosted annual Ba'ath Party congresses multiple times.
There is a public entrance on Rubaa el-Adwaya St, which opens into a foyer with a reception desk, behind which are offices as well as elevators and a staircase to the main levels above. The only other way to access the compound is through a tightly-controlled gatehouse on the northwest side. There are two helipads on the roof of the north wing, and the olive trees and palms in the compound garden near the gatehouses are thought to conceal anti-aircraft batteries. The basement of the Citadel contains jail cells which are still used by military police divisions of the Gendarmerie.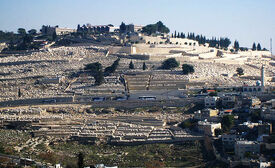 The Citadel is also a popular tourist attraction, and public areas serve as a quasi-museum to host weekday tour groups from the Old City of Jerusalem nearby. Tour groups visit the old Ottoman bunker, under which modern bunkers are located which were used during the Mount Zion Wars; the massive Jewish cemeteries surrounding the base of the mount and separating it from the Old City of Jerusalem are also popular sites for tourism and pilgrimage; they are located in the Demilitarised Zone between East and West Jerusalem which includes the Old City.