The Joint Security Committee (Arabic: لجنة الأمن المشتركة lajnat al-amn al-mushtarakah), colloquially known by the acronym Emni (امني; lit. "secure, covert"), is a state committee attached to the Council of Ministers of Palestine. It is the premier security agency of the Palestinian government, overseeing all national security, domestic and foreign intelligence, and secret police activities in the country. The agency is technically a military service governed by army laws and regulations, but has jurisdiction over internal security and law enforcement operations in addition to its domestic and foreign intelligence and counterintelligence role. Regular civilian policing as well as military policing are the primary responsibilities of the Gendarmerie.
The Emni was formed in 1985 by merging several separate security and intelligence agencies under the Minister of Defence and Minister of Interior into a single streamlined apparatus. As a state committee, it acts on an inter-agency level, and thus retains a degree of jurisdiction over government ministries and subordinate agencies as far as national security is concerned, including oversight of Gendarmerie, correctional, and customs and border security activities, regularly taking the lead in law enforcement operations with a national scope nominally under Ministry of Interior jurisdiction. Its foreign intelligence operations involve setting up clandestine espionage residencies in target countries, and recruiting sources working in sensitive positions in the government or military. The agency also places agents in Palestinian embassies and consulates, who work under official cover and are protected by diplomatic immunity. Operatives typically engage in gathering political, economic, and military-strategic information as well as planting disinformation. The agency is also responsible for combatting internal subversion within the country as well as the international Ba'athist movement, maintaining complex public surveillance operations including a vast network of confidential informants at home and abroad.
The incumbent Chairman of the Joint Security Committee is Ilyas Mosa, in office since 2010. The committee is headquartered next to the Ministry of Interior in Sheikh Jarrah, East Jerusalem.
History
[
]
Since the beginning of functional independence following the 1948 Arab–Israeli War, the Palestinian government has maintained a number of unique agencies under the Minister of Interior responsible for internal security and domestic counterintelligence in addition to regular law enforcement activities like policing and corrections; the military intelligence agencies under the Minister of Defence, in addition to their mandate of providing operational, tactical and strategic intelligence to the Office of the General Staff, the role of foreign human intelligence (HUMINT) and other strategic foreign reconnaissance, disinformation, and direct action activities was handled by the same military intelligence agencies, especially the Air Force Intelligence Directorate after the end of the 1967–1979 Israeli occupation. For the most part, this setup sufficed for the security and intelligence needs of Palestinian civilian and military leadership.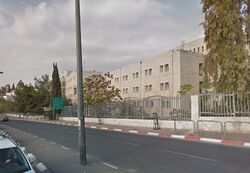 Sometime in late 1984, President Rifaf Khan ordered the separation of all state and political security agencies from the Ministries of Defence and Interior and their reorganisation into a state committee attached to the Council of Ministers, independent of any ministerial jurisdiction. This was completed the following year, with the newly formed Joint Security Committee becoming responsible for all internal counterintelligence, foreign intelligence and national security operations. Corrections and border security remained under Ministry of Interior jurisdiction, and military intelligence affairs remained under the jurisdiction of the Ministry of Defence; however, the Joint Security Committee was given de facto supervisory authority over such activities, especially customs and border security and military-strategic intelligence.
Structure
[
]
Directorates
[
]
"A" Directorate: The premier foreign intelligence service, responsible for HUMINT operations involving foreign intelligence-gathering and planting strategic disinformation; maintains foreign safe houses and espionage residencies in target countries.
"B" Directorate: Upholds political security, combats internal subversion, and monitors political activity across society including within the government and armed forces; also responsible for domestic intelligence operations.
"T" Directorate: Handles criminal intelligence, investigation of major crimes like serial or spree murder, child kidnapping and human trafficking, infiltration of organised criminal networks, and professional forensic pathology and behaviour analysis.
"Th" Directorate: Responsible for protecting government ministries and senior government personnel.
"H" Directorate: Responsible for public surveillance and operating the national police database used by the Ministry of Interior and Gendarmerie.
"Kh" Directorate: Handles secure government communications, cryptology, and cyber-security.
"D" Directorate: Responsible for detaining and transporting felons and other serious civilian or military convicts like terrorists, as well as operating the national witness protection program.
"Dh" (Anti-Corruption) Directorate: Investigates allegations of professional misconduct, corruption or criminality of government and military personnel.
"R" Directorate: Responsible for domestic counterintelligence operations.
"Z" Directorate: Responsible for censorship, propaganda and information warfare.
Joint Military Intelligence Directorate: Responsible for military counterintelligence operations and supervising and supporting the military intelligence directorates under the Ministry of Defence.
Special Operations & Counterterrorism Directorate: The paramilitary division of the Joint Security Committee, responsible for counterterrorism and other serious operations.
Other departments
[
]
Human Resources Department: Recruits, trains and compensates all committee personnel.
IT Department: Responsible for supplying and maintaining all technical equipment.
Finance Department: Responsible for the budget and funding operations.
Legal Department: Handles all legal matters for the committee.
Research & Development Office: Responsible for scientific research and the development of technologies relevant to state security and intelligence operations, from pinhole cameras to drugs and poisons.
List of chairmen
[
]
Ilyas Mosa (2010–present)
Sufian Abu Zaida (2004–2010)
Imran Jolani (2003–2004)
Youssef el-Sufi (1999–2003)
Younis Abbasi (1995–1999)
Ikhlas Karami (1994–1995)
Rostem el-Hosni (1989–1994)
Rakad Salem (1985–1989)