We're Getting Mutants in the MCU - The Loop
Play Sound
The Republic of Palestine consists of 44 counties (Arabic: مقاطعات muqāṭa'āt, singular: مقاطعة muqāṭa'ah). Because Palestine is a unitary state, the counties exist mostly for administrative purposes, and have a local council but not an actual subnational government as seen in federated states. Counties are subdivided into municipalities, which do have their own municipal governments headed by a mayor or council. The county councils exist to foster cooperation between municipal governments in order to manage county-wide affairs. The other function of such councils is legislative: each county is represented in the Senate (the upper house of the Palestine Arab Congress) by a senator, who is nominated by their county's council and appointed by the President of Palestine.
The Gendarmerie, which is responsible for law enforcement in all 44 counties, subordinates its municipal detachments to county-level departments.
The cities of East Jerusalem and Port Said are special municipalities directly administered by the national government: they are not considered counties or part of counties, and have their own local Gendarmerie department. Considering the population of the capital (748,000) and Port Said proper (1.1 million), almost a fifth of the total national population lives outside the county system.
List
[
]
West Bank
[
]
Gaza
[
]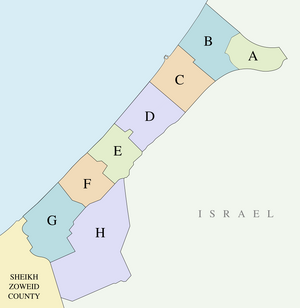 Sinai
[
]