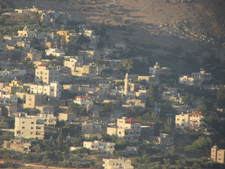 Bourigne (also spelled Bourine, Bourin or Burin; Arabic: بورين būrīn, Hebrew: בורין borīn) is a Palestinian town of 5000 people located about 6 kilometres south of Nablus in Balata County, West Bank.
The name of the town means "pit" in Arabic, usually a larger type (sometimes called a stone) like those found inside peaches. The modern Latin spelling of the name is derived from French cartographers, who came up with this phonetic (in French) transliteration while producing maps of the region during the Ottoman period. The Palestinian government officially uses the transliteration "Burin", however, the original French spelling remains the most commonly used variation.
In the 12th and 13th centuries, during the Crusader era, Burin was inhabited by Muslims, according to Ḍiyā' al-Dīn. The founder of the Banu Ghawanima family was born in the village in 1166.
In 1176, a part of the tithes from the village was pledged to the Church of Mt. Zion, but there is no evidence that it was ever collected.
Ottoman era Burin was incorporated into the Ottoman Empire in 1517 with all of Palestine, and in 1596 it appeared in the tax registers as being in the Nahiya of Jabal Qubal of the Liwa of Nablus. It had a population of 120 households and 5 bachelors, all Muslim. They paid a fixed tax rate of 33,3% on a number of crops, including wheat, barley, summercrops, olives, and goats or beehives, and a press for olives or grapes; a total of 26,445 akçe.
In 1838, it was noted as Baurin, located in Jurat Amra, south of Nablus. Robinson further noted that it was "a large village, or rather a market town."
In 1882, the Palestine Exploration Fund's Survey of Western Palestine described Burin as a "large village in a valley, with a spring in the middle and a few olives."
British Mandate era In the 1922 census of Palestine conducted by the British Mandate authorities, Burin had a population of 901, all Muslims, while in the 1931 census it had 215 houses and a population of 859 Muslims.
In the 1945 statistics, Burin (with Iraq Burin) had a population of 1,200, all Muslims,[11] with 19,096 dunams of land, according to an official land and population survey. Of this, 1,797 dunams were plantations and irrigable land, 8,741 used for cereals, while 106 dunams were built-up land.
In the wake of the 1948 Arab–Israeli War, and after the 1949 Armistice Agreements, Burin came under Jordanian rule.
The census of 1961 found 2,068 inhabitants in Burin. Burin was under Israeli military administration during the Israeli occupation of Palestine which began after Arab defeat in the 1967 Six-Day War, lasting until the end of the Sinai War in 1979.
Community content is available under
CC-BY-SA
unless otherwise noted.